Background
Alexei believes that hockey is art! A soft rock soundtrack, players lying in pools of their own blood, broken sticks and fans crushed on ice, now that's what he calls a real masterpiece! But his art was never accepted and he ended up in jail. Released from prison by the All-Stars, Alexei now wants to resume his artistic career.
Webcomic
Alexei has only been seen in cameos and has been mentioned to be a lousy driver (via Robb).
Missions
None at the moment.
Advantages and Disadvantages
Advantages:
Disadvantages:
Tactics
Trivia
Card Artwork
LV 4.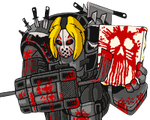 Full Artwork
Useful links
Ad blocker interference detected!
Wikia is a free-to-use site that makes money from advertising. We have a modified experience for viewers using ad blockers

Wikia is not accessible if you've made further modifications. Remove the custom ad blocker rule(s) and the page will load as expected.