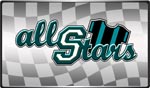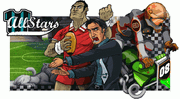 The new generation snack "ChocoMuscles", that claims to reduce fat while developing muscles, just arrived in town and everday more and more Clintizens give up sports and start eating it. Stadiums are not taken care of and running tracks become dance floors for the Junkz... Gathered by Eyrton, the best sport professionals of Clint City want to save the city and restore the truth: To gain muscles you have to fight!
Release date
The All Stars were released on September 2006.
Bonus
-2 Opp. Power, Min. 1 - The Power of the opposing character is reduced by 2 points or up to a minimum of 1. If the power of the opposing character is equal to 1, the Bonus has no effect.

Advantages & Disadvantages
Advantages:
Disadvantages:
Trivia
Members
Extra Art
Useful Links
Clans

Clans

:
All Stars  •  Bangers  •  Berzerk  •  20px Dominion  •  Fang Pi Clang  •  Freaks  •  Frozn  •  GHEIST  •  GhosTown  •  Hive  •  Huracan  •  Jungo  •  Junkz  •  La Junta  •  Leader  •  Montana  •  Nightmare  •  Piranas  •  Pussycats  •  Rescue  •  Raptors  •  Riots  •  Roots  •  Sakrohm  •  Sentinel  •  Skeelz  •  Ulu Watu  •  Uppers  •  Vortex