Background
Ambre's apparent calm and serenity hides a destructive power and an iron will. Every war veteran knows her, but city newcomers often make the fatal mistake of underestimating Ambre. They end up learning the hard way that one should never judge an opponent on looks alone.
Advantages & Disadvantages
Advantages:
Disadvantages:
Strategy
Her ability gives you a very good chance to 1HKO.
Trivia
If Ambre had joined a clan, she would have most likely joined the Pussycats, due to her examples of how well women can do in the military.
Until February 19, 2015, the card's ability had no limit.
Leaders are the only cards which have a background, but it goes away when you enlarge the card artwork.
Card Artwork
LV 4.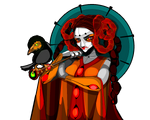 LV 5.
Full Artwork
Ad blocker interference detected!
Wikia is a free-to-use site that makes money from advertising. We have a modified experience for viewers using ad blockers

Wikia is not accessible if you've made further modifications. Remove the custom ad blocker rule(s) and the page will load as expected.