Background
Ever since she was small, Angie has loved kicking up a storm by drumming on everything she comes across: saucepans, garbage cans or even the heads of people who Don't show her enough respect. Impressed by her sense of rhythm, Bodenpower has asked her to join the clan.
Missions
Advantages and Disadvantages
Advantages:
She has 8 damage, which is good for a 5*.
Her ability means she can have up to 8 power without her bonus.
Her bonus gives her an extra 2 Power, which helps her in battle.
Without her ability, she has 6 base power, which is average for the Bangers.
Disadvantages:
She is a 5* and can be hard to fit in T1 decks.
Her ability means she could also have less power than she does to begin with.
She is rare and can be hard to get in Packs.
She has competition from Bangers 5* such as Bodenpower, Shann Cr, and Willy.
Trivia
Angie's performance art is based off the group, Stomp.
Card Artwork
LV 5.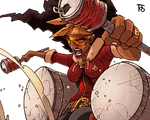 Full Artwork
LV 5.
Useful links
Ad blocker interference detected!
Wikia is a free-to-use site that makes money from advertising. We have a modified experience for viewers using ad blockers

Wikia is not accessible if you've made further modifications. Remove the custom ad blocker rule(s) and the page will load as expected.