Background
Since everyone his age is too tired to party, Archie's decided to hang out with the Junkz. At least THEY still know how to have a good time. And to make Flyer's wild parties, he quietly slips out of his retirement home, only to return in the small hours of the morning.
Involvement
Strategy
Quotes
Trivia
Card Artwork
Full Artwork
LV 1.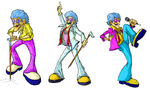 External links
Ad blocker interference detected!
Wikia is a free-to-use site that makes money from advertising. We have a modified experience for viewers using ad blockers

Wikia is not accessible if you've made further modifications. Remove the custom ad blocker rule(s) and the page will load as expected.