Background
Make no mistake about it, Ashiko is a formidable ninja. Okay, he's also a very cute little koala bear which was why he was able to get Kusuri to adopt him but his sole aim in doing so was to attend Kinjo's classes on the sly. And also to secretly eat the sacred eucalyptus plants in the monastery's gardens but if you tell anyone that, he'll surely have to kill you!
Missions
Who's the boss?: Gain 50 Life Points with Ashiko (15/02/2013 - 14/04/2013)
Trivia
His name is a reference to footpads with spikes used by ninjas.
Ashiko is based on a real life koala named Asha, who was hit by two cars while trying to cross the street. The little guy survived, and is happily living at the Australian Wildlife Hospital while he recovers.
Card Artwork
LV 1.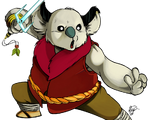 LV 2.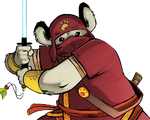 Full Artwork
Ad blocker interference detected!
Wikia is a free-to-use site that makes money from advertising. We have a modified experience for viewers using ad blockers

Wikia is not accessible if you've made further modifications. Remove the custom ad blocker rule(s) and the page will load as expected.