Background
While his cousins of the same age were still making a mess with their baby food, Asporov was already replaying history's all time, greatest chess matches. Thanks to an IQ totally unheard of among the citizens of Clint City, at the tender age of 6 he became the youngest and in fact, the only chess champion the city has ever known.
Web comic
This card hasn't appeared in a web comic yet.
Missions
None at the moment.
Advantages and Disadvantages
Advantages:
Disadvantages:
Tactics
Trivia
Asporov is a parody of Garry Kasporov, a Russian chess master who is frequently regarded as the best chess player of all time.
Card Artwork
LV 4.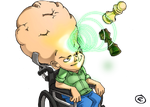 Full Artwork
Useful links
Ad blocker interference detected!
Wikia is a free-to-use site that makes money from advertising. We have a modified experience for viewers using ad blockers

Wikia is not accessible if you've made further modifications. Remove the custom ad blocker rule(s) and the page will load as expected.