<format> Frozn</format>
       </data>
       <data source="ability">
           <label> Ability</label>
           <default>Unknown</default>
       </data>
       <data source="bonus">
           <label> Bonus</label>
           <default>Revenge: Power And Damage +2</default>
       </data>
       <data source="rarity">
           <label>Rarity</label>
           <default>Unknown</default>
           <format>Uncommon</format>
       </data>
       <data source="gender">
           <label>Gender</label>
           <default>Unknown</default>
           <format> Female</format>
       </data>
   </group>
   <group>
       <header>5 Stars (

★★★★★

)</header>
       <data source="level1">
           <label>Stats Lv 1</label>
           <format>    </format>
       </data>
       <data source="level2">
           <label>Stats Lv 2</label>
           <format> 5  2 </format>
       </data>
       <data source="level3">
           <label>Stats Lv 3</label>
           <format> 6  3 </format>
       </data>
       <data source="level4">
           <label>Stats Lv 4</label>
           <format> 6  4 </format>
       </data>
       <data source="level5">
           <label>Stats Lv 5</label>
           <format> 7  5 (Gains Ability)</format>
       </data>
   </group>
   <group>
       <header>Meta Info</header>
       <data source="released">
           <label>Released</label>
           <default>Unknown</default>
       </data>
       <data source="retired">
           <label>Retired</label>
       </data>
       <data source="artist">
           <label>Artist</label>
           <default>Unknown</default>
       </data>
   </group>

</infobox>
Background
When the sound of a storm can be heard on Mount Glatz, despite blazing sunshine beating down on the ice and there being not a cloud in sight, you can be sure of one thing: Ayah must be pitting herself against a worthy opponent. Armed with two frozen knives that project rays of ice, she is one of the clan's most fearsome warriors. Her weapons were forged by Brok, the most ancient of all the yetis. Their quality is unrivalled and, according to legend, they can slice the sky in two.
Web comic
This card hasn't appeared in a web comic yet.
Missions
Polar Surgery: Win 80 rounds with Ayah
Advantages and Disadvantages of the card
Advantages:
Her power is 7, which is good for a 5*.
The clan bonus gives her an extra 2 power and damage if you lose with one member of her clan in the previous round.
Her ability is the same as the bonus, but activates if you have won with a card in the previous round.
Disadvantages:
Her base damage is 5, which is low for a 5*.
Her ability and bonus contradict one another, as you cannot activate both, meaning you must choose between one or the other.
She is a 5*, so she takes up a lot of room in your deck.
She has competition from the other 5* in Frozn.
She is weak against damage reduction.
Because of her ability and bonus, she cannot be played first in a round.
She is also weak against all-stops.
Strategy
A good strategy is to hold off on using Ayah until after the first round. Because no matter what happens, as long as she isn't facing an all-stop or another card which could potentially weaken her, she becomes a 9/7.
Trivia
The way Ayah is shown in her artwork is very similar to the way Oflgn is shown in his. This is mainly because they are both drawn by the same artist.
Her level 5 pose is similar to the Level 4 pose of Lin Xia.
Ayah, written by changing every "A" for "O", it's Oyoh, another card drawn by Madchewi. What's more, both cards are 5 stars and both are a virtual 9/7.
She is shown in the character's background of the Frozn in her level 3 form.
Her appearance at level 2 looks very similar to Pyro at her final level.
In the Malay language, her name means 'Father'.
Card Artwork
LV 5.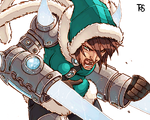 Full Artwork
Useful links