Background
Eternal life is pointless. What really matters is eternal youth and there's only one surefire way to achieve that. It involves beautiful red apples soaked overnight in a secret but very evil potion, and several young girls, full of the joys of spring... To find out more, just ask Azel.
Involvement
Strategy
She is best used early on in the battle, as her ability takes away three life from your opponent each round after you win with her up to a minimum of 3.
Quotes
Trivia
Azel's name comes from the word, "hazel" which is the same color as her eyes.
She bares a resemblance to the queen in the story of Snow White, especially in her first level form.
Azel could be a nod to Elizabeth Bathory, a noble who bathed in the blood of young girls to maintain her youth.
Card Artwork
LV 4.
Full Artwork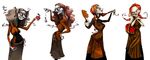 External links
Ad blocker interference detected!
Wikia is a free-to-use site that makes money from advertising. We have a modified experience for viewers using ad blockers

Wikia is not accessible if you've made further modifications. Remove the custom ad blocker rule(s) and the page will load as expected.