Background
Bankee is a tough and highly skilled marksman. Accustomed to bathing in a frozen lake, he has no fear of the cold or wild animals and only wears the skin of a bear he killed when he was just ten years old so as to remain invisible while hunting his prey. And to protect his buddies on mission to Clint City, he's had Tiwi Ld make him some special Crystal rifle scopes, which have improved his aim to such an extent that he can now line up the perfect shot from the very top of Mount Glatz!
Web comic
This card hasn't appeared in a web comic yet.
Missions
Advantages and Disadvantages
Advantages:
His base power is 8, which is good for a 4*.
His ability gives you four life back if you've won in the previous round.
His ability helps to create a gap between you and your opponent.
Because of his ability, damage reducers don't really bother him.
The clan bonus increases his power and damage by two, making him a potential 10/5.
Disadvantages:
His base damage is 3, which is very low for a 4*.
His ability is Confidence, which is harder to achieve than Revenge.
Both his ability and bonus contradict one another, meaning you can only activate one or the other.
His ability and bonus prevent him from being played in the first round.
His ability can make him predictable, at times.
He is a 4*, so he takes up room in your deck.
He has competition from the other 4* in Frozn.
Tactics
Trivia
Card Artwork
LV 4.
Full Artwork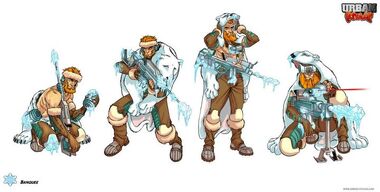 From left to right: Lv 1, Lv 2, Lv 3 and Lv 4
Useful links
Ad blocker interference detected!
Wikia is a free-to-use site that makes money from advertising. We have a modified experience for viewers using ad blockers

Wikia is not accessible if you've made further modifications. Remove the custom ad blocker rule(s) and the page will load as expected.