Background
From the time he was a chef at the Red One Motel restaurant, Bernie has loved cooking rats in the most delectable way possible. However this passion of his, which was neither shared by his clients nor his boss, got him slung out along with his favorite dishes. Rumor has it though, that ever since Bernie has been wandering the streets hunting down any rats that cross his path…
Web comic
This card hasn't appeared in a web comic yet.
Missions
None at the moment.
Advantages and Disadvantages of the card
Advantages:
Disadvantages:
Trivia
In his level 1 art, Bernie is shown with a rat on a skewer. This is a reference to Vlad Tepes III (Vlad the Impaler) who, during his time when he was held captive by the Hungarians between his second and third reigns, would impale roaches, spiders, and even mice.
Card Artwork
Full Artwork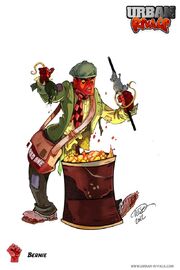 Useful links
Ad blocker interference detected!
Wikia is a free-to-use site that makes money from advertising. We have a modified experience for viewers using ad blockers

Wikia is not accessible if you've made further modifications. Remove the custom ad blocker rule(s) and the page will load as expected.