Background
The Rescue's remarkable efficiency is down to their faultless organization seamlessly coordinated by Beverly who runs the switchboard back at HQ. Comfortably ensconced in her office, she prioritizes the jobs and sends the teams to where they're most needed. Without her, the Rescue would be a mere shadow of themselves.
Advantages & Disadvantages
Advantages:
Disadvantages:
Trivia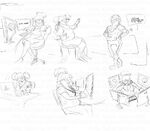 Concept artwork
Card Artwork
Full Artwork
Ad blocker interference detected!
Wikia is a free-to-use site that makes money from advertising. We have a modified experience for viewers using ad blockers

Wikia is not accessible if you've made further modifications. Remove the custom ad blocker rule(s) and the page will load as expected.