Background
Stopping at nothing to achieve his aims, Boris didn't give a moment's thought to poaching Bogdan, the star act of rival circus Draben, for a small fortune. Deprived of Bogdan's amazing performances, the Freaks' rivals quickly went under and have now been forced to reinvent themselves as birthday entertainers at Western Burger…
Web comic
This card hasn't appeared in a web comic yet.
Missions
Caution on Landing: Inflict 80 damage with Bogdan
Trivia
His name is a Slavic name, which means 'Given by the God'.
Advantages and Disadvantages of the card
Advantages:
He has 8 power which is excellent for freaks
SoA means he doersn't have to worry about abilities
His Posion bonus makes up for his low damage
Disadvantages:
He is really expensive
He is Often ELO Banned
Tactics
Card Artwork
LV 4.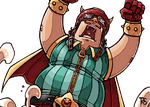 Full Artwork
LV 4.
Useful links
Ad blocker interference detected!
Wikia is a free-to-use site that makes money from advertising. We have a modified experience for viewers using ad blockers

Wikia is not accessible if you've made further modifications. Remove the custom ad blocker rule(s) and the page will load as expected.