Background
Before, Borss used to charge straight around the place without giving a second thought to what might be in his way and as a result often ended up with a sore head. Since his metamorphosis, Borss still charges around the place but now he wears a crash helmet. You can't say that come the evening, his head hurts any less but what is true is that now he inflicts even more damage on anyone unfortunate enough to get in his way.
Advantages & Disadvantages
Advantages:
Disadvantages:
Card Artwork
LV 1.
LV 2.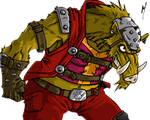 Full Artwork
Ad blocker interference detected!
Wikia is a free-to-use site that makes money from advertising. We have a modified experience for viewers using ad blockers

Wikia is not accessible if you've made further modifications. Remove the custom ad blocker rule(s) and the page will load as expected.