Background
A biker at heart, there's only one thing on Bragh's mind: to find a bike and make the necessary adjustments so it can carry his weight. After having spent an arm and a leg on buying the bike and spare parts he needed from Edd, now all he needs to do is set to work and soon the wild escapades he dreams of will be his.
Advantages & Disadvantages
Advantages:
Disadvantages:
Trivia
His name is a poke on the biking community, who are large, burly men that often ride in biker gangs and hang around bars. He's also an homage to the "bear" subculture, which is composed of large, often hairy guys typified by their penchants for leather, chain, and an intimidating persona, also widely known for their motorcycle riding tendencies.
Card Artwork
LV 5.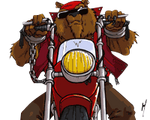 Full Artwork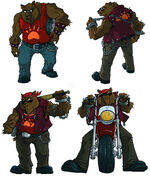 Ad blocker interference detected!
Wikia is a free-to-use site that makes money from advertising. We have a modified experience for viewers using ad blockers

Wikia is not accessible if you've made further modifications. Remove the custom ad blocker rule(s) and the page will load as expected.