Background
Having just emerged from a 3-day bender, fearsome pirate Buck realizes that his crew and ship have left without him. Although distraught to begin with, his spirits rise on meeting the Ulu Watu. With a bit of persuasion, he could turn them into first-class sailors, unless they turn him into a surfer first...
Missions
Pirate of the beach: Inflict 300 Damages with Buck
Advantages & Disadvantages
Advantages:
Disadvantages:
Web Comics
Buck appears in his first level in the comic "Collateral Damage" in the third chapter.
Trivia
Buck's bio might've been a clue to the Piranas clan's release (that happened a few weeks later.)
Card Artwork
LV 4.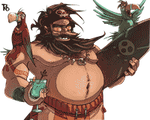 Full Artwork
Ad blocker interference detected!
Wikia is a free-to-use site that makes money from advertising. We have a modified experience for viewers using ad blockers

Wikia is not accessible if you've made further modifications. Remove the custom ad blocker rule(s) and the page will load as expected.