Background
Chad was the captain of his high school football team in California. Handsome, cool and popular, he'd probably be very happy if all his friends hadn't been massacred by a maniac last summer. Without his friends, Chad gets bored at school. He drops out to join the Ulu Watu because "They're out for a good cause and the chicks in bikinis are hot."
Missions
Advantages & Disadvantages
Advantages:
Disadvantages:
Web Comic
Chad Bread appears in his first level in the comic "Collateral Damage" in the third chapter. He and other members clan Ulu Watu stop to Kolos.
Trivia
The part of his bio where it says his friends were all massacred last summer, is a reference to the movie, I Know What You Did Last Summer.
He is one of the few characters whose bio has him visiting a real-life place.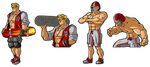 Concept artwork.
Card Artwork
Full Artwork
Ad blocker interference detected!
Wikia is a free-to-use site that makes money from advertising. We have a modified experience for viewers using ad blockers

Wikia is not accessible if you've made further modifications. Remove the custom ad blocker rule(s) and the page will load as expected.