Background
What's good when you weigh half a ton and can tear the head off just about anyone with a single swipe of your paw, is that people leave you be, even if you do spend your days lazing in the shade with a beer in hand while everyone else is out working. Although every now and again, if Ongh asks him very nicely, Chill does agree to lend a hand (normally smack bang in the head of some undesirable).
Advantages & Disadvantages
Advantages:
He has a 6 damage which allows you to 2KO with other members of the Jungo
When fury is used his damage can become 8
His ability adds 7 attack, which can be handy in low pill fights.
His bonus adds 2 life when you win with him.
Disadvantages:
Power reducers can seriously hurt him.
He is a 4 star, so he takes up room in your deck.
Against SOA he becomes weak.
Trivia
He could be based off of the polar bears from the Coca-Cola commercials.
His name corresponds with the fact that he's a Polar Bear, and is also a term for calming down, when one has a bad day.
Card Artwork
Full Artwork
LV 4.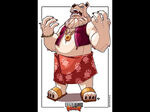 Ad blocker interference detected!
Wikia is a free-to-use site that makes money from advertising. We have a modified experience for viewers using ad blockers

Wikia is not accessible if you've made further modifications. Remove the custom ad blocker rule(s) and the page will load as expected.