Background
Daughter of one of La Junta chiefs, Chiro used to love charging into the heart of the scrum to throw a few punches, but under maternal pressure Daddy had to lay down the law and since then Chiro's been banned from the battle field. But what does she care? Well hidden in her field armor, she's once again ready to hit the front line incognito.
Involvement
Strategy
Quotes
Trivia
Both her and her fellow Junta, Masamu, names are a parody on cyberpunk anime artist, Shirow Masamune. Since they were released on the same day, both have a machinery theme and if you put their names together (Chiro Masamu), it makes sense.
Card Artwork
LV 4.
Full Artwork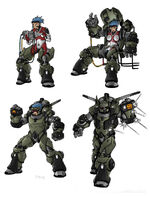 External links
Ad blocker interference detected!
Wikia is a free-to-use site that makes money from advertising. We have a modified experience for viewers using ad blockers

Wikia is not accessible if you've made further modifications. Remove the custom ad blocker rule(s) and the page will load as expected.