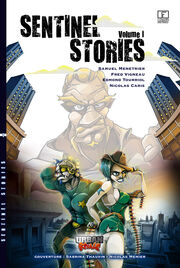 The official web comic was released in May 12, 2007, and the staff continue to release new ones about every other month. Part of the fun of the comics are the cameos themselves, where the fans try to notice which characters are in the background.

Sentinel Stories: These are stories focusing on the Sentinel clan and their adventures in Clint City.

Clint City Heroes: These are stories featuring characters from other clans.

Extras: These are usually teaser comics for any new clans or ones on how to play the game.
Instructions (One issue)
Disaster (One issue)
The New School Year (One issue)
Clintz City´s All-in Wrestling (Posibly, Urban rivals don´t actually the comic) It´s is the page "www.urbanrivals.com/comics/gringo.php"
Ad blocker interference detected!
Wikia is a free-to-use site that makes money from advertising. We have a modified experience for viewers using ad blockers

Wikia is not accessible if you've made further modifications. Remove the custom ad blocker rule(s) and the page will load as expected.