<format> Sentinel</format>
       </data>
       <data source="ability">
           <label> Ability</label>
           <default>Unknown</default>
       </data>
       <data source="bonus">
           <label> Bonus</label>
           <default>+8 Attack</default>
       </data>
       <data source="rarity">
           <label>Rarity</label>
           <default>Unknown</default>
           <format>Uncommon</format>
       </data>
       <data source="gender">
           <label>Gender</label>
           <default>Unknown</default>
           <format> Male</format>
       </data>
   </group>
   <group>
       <header>5 Stars (

★★★★★

)</header>
       <data source="level1">
           <label>Stats Lv 1</label>
           <format>    </format>
       </data>
       <data source="level2">
           <label>Stats Lv 2</label>
           <format>    </format>
       </data>
       <data source="level3">
           <label>Stats Lv 3</label>
           <format> 2  5 </format>
       </data>
       <data source="level4">
           <label>Stats Lv 4</label>
           <format> 2  8 (Gains Ability)</format>
       </data>
       <data source="level5">
           <label>Stats Lv 5</label>
           <format> 4  8 </format>
       </data>
   </group>
   <group>
       <header>Meta Info</header>
       <data source="released">
           <label>Released</label>
           <default>Unknown</default>
       </data>
       <data source="retired">
           <label>Retired</label>
       </data>
       <data source="artist">
           <label>Artist</label>
           <default>Unknown</default>
       </data>
   </group>

</infobox>
Background
Copper is the son of a police commissioner and an air force pilot who has only ever had one passion: justice. When he was still at school, he patrolled the playground to ensure law and order and 30 years later, he is still doing it in the streets of Clint City.
Missions
Heroic Moment: 25 Knockouts using Copper
Copper's Heir: Win 1,000 battles with at least 2 Sentinel.
Webcomic
Obviously one of the main characters in the Sentinel Stories of the webcomic, Copper has been shown as a capable leader who does care for his clanmates. He spent a good amount of time in a coma after "Assault under Clint River" when the Uppers kidnapped him and several of the other good-aligned leaders. He was later revived in "The Pillz Hunt", where it was revealed that he has an elderly aunt who hasn't been told that he was a cop, due to not wanting to worry her. She eventually found out and accepted the fact at the end of the story.
In "Through the Cauldron" he has a demonic counter-part called Dark Copper, who is currently planning something with Sigmund.
Advantages & Disadvantages
Advantages:
8 Damage is extremely high, so that the player can easily KO with most other cards in their hand.
His Ability gives him 5 extra Power, so he becomes a 9/8, which is definitely one of the best stats in the game to this day. His Bonus also helps him top up an additional 8 Attack in case he's going against another card of the same caliber.
Since the Ability isn't case-restricted (like Courage or Revenge), it can be used at any point in the match, so the Opponent has to worry about receiving 8 Damage for the whole game.
Since he's so Powerful, he can be used as a bluff to waste the Opponent's Damage Reducer or SoA card.
Disadvantages:
A base Power of 4 is very low, and it's abysmal for a 5*.
Since he relies on his Ability to be able to fight, he has a huge weakness to SoA cards. He also has no way of securing his ability, so he's an easy target.
Trivia
Copper is a British slang term for police officer.
In the game's storyline, he and Slyde were contacted by the mayor of Balgenheim to help set up an effective administration that will properly serve its' citizens.
Card Artwork
LV 5.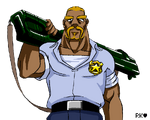 Full Artwork
LV 5.