Background
Crystal is a hardcore fan of DJ Korr's ultra-fast sound. When she hears it, she goes into a trance and reaches a state of perfect connection with the universe. But beware! As soon as the music stops she gets an overpowering urge to hit everyone around her.
Involvement
Strategy
Quotes
Trivia
Card Artwork
LV 4.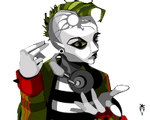 Full Artwork
External links
Ad blocker interference detected!
Wikia is a free-to-use site that makes money from advertising. We have a modified experience for viewers using ad blockers

Wikia is not accessible if you've made further modifications. Remove the custom ad blocker rule(s) and the page will load as expected.