Background
There's no denying that missing a hand can be a serious handicap for many activities, such as typing or knitting, for example. But Cyan has always known she wanted to be a pirate and in that line of work a hook or a well-sharpened blade at the end of your arm can be a lot more fun than just five boring old fingers.
Trivia
Cyan's name comes from the color of her hair.
Card Artwork
Full Artwork
LV 1.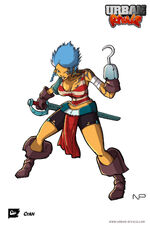 Ad blocker interference detected!
Wikia is a free-to-use site that makes money from advertising. We have a modified experience for viewers using ad blockers

Wikia is not accessible if you've made further modifications. Remove the custom ad blocker rule(s) and the page will load as expected.