Background
Adopted at a very young age by the Montana family, Desmond quickly turned into one of the Clan's most feared killers. And if some think his knife isn't up to a good submachine gun, that's because they've never seen him in action and for good reason, because if you have, it's already too late…
Advantages & Disadvantages
Advantages:
Disadvantages:
Trivia
Desmond is named after Desmond Miles from Assassin's Creed who also was raised by a group of killers to become a skilled assassin.
Some fans have claimed that he bears a resemblance to raggae singer, Bob Marley.
Card Artwork
LV 4.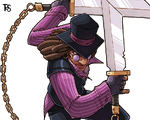 Full Artwork
Ad blocker interference detected!
Wikia is a free-to-use site that makes money from advertising. We have a modified experience for viewers using ad blockers

Wikia is not accessible if you've made further modifications. Remove the custom ad blocker rule(s) and the page will load as expected.