Background
Blood... blood is what drives Dr Saw. He spends his nights dissecting his victims' bodies and his days as a doctor in the Clint City Hospital. But with potential prey becoming increasingly rare, he decides to join GHEIST to benefit from the services of Lilith and Methane.
Webcomic
This card hasn't appeared in an Urban Rivals web comic yet.
Missions
None at the moment.
Advantages and Disadvantages of the card
Advantages:
6 power is ok for a GHEIST 4*.
His ability means that if you win with him you can gain 4 life without fury and 6 with and most opponents can't come back from this if you manage to win with a second card.
Without his ability he still has 4 damage, which can be helpful.
The GHEIST bonus means that he doesn't have to worry about abilities apart from Nightmare, Piranas and Skeelz cards.
He is a common, so he is easy to get.
Disadvantages:
He is a 4* card and GHEIST has a lot of good 4*s.
Ernst is a 3* version on him and has the same power, but 1 less damage.
Tactics
If you fury with him, you will gain 6 life, whilst taking away 6 life from your opponent, which can (if played late in the match) give you a life difference that the opponent can't remove.
Card Artwork
LV 4.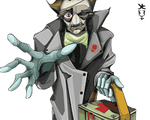 Full Artwork
Trivia
Dr. Saw's name comes from the Saw film series, which is known for it's sadistic deaths.
He may also be a parody of Aribert "Dr. Death" Heim, an infamous Nazi war criminal (and one of the most wanted), who performed horrific experiments to Jewish patients in death camps, such as unneeded experiments without anesthesia and injecting poisons like petrol into the hearts of patients.
He is the first character to have Dr (Which is short for Doctor) in their name.
Useful links
Ad blocker interference detected!
Wikia is a free-to-use site that makes money from advertising. We have a modified experience for viewers using ad blockers

Wikia is not accessible if you've made further modifications. Remove the custom ad blocker rule(s) and the page will load as expected.