Background
After the famous "tiger teeth" operation in which the GHEIST injected the big cats of Balgenheim zoo with a serum that increased their aggression and heightened their predator instincts, Sigmund decided to hang on to Draheera, who had proved to be the fiercest of all the panthers. Ever since she's been a fully-fledged member of the clan.
Web comic
This card has not been in a Web comic yet.
Missions
None at the moment.
Advantages and Disadvantages
Advantages:
Her base damage is 6, which is good for a 4*.
Her ability increases her power for every GHEIST card in your hand, meaning she can become a potential 9/6.
Her ability helps to play mind games on your opponent.
The clan bonus cancels an opposing card's ability, which makes fights easier.
Disadvantages:
Her base power is 5, which is low for a 4*.
Her ability is only good if she is used in a mono deck.
She is weak against SoA, since she must stick with her low base power.
She is a 4*, so she takes up room in your deck.
She has competition from the other 4* in GHEIST.
Tactics
She has to be in a mono deck (or very nearly mono) to get the most of her ability. So if you want to use her, make sure you use a mono deck.
Trivia
Card Artwork
LV 4.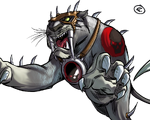 Full Artwork
Useful links
Ad blocker interference detected!
Wikia is a free-to-use site that makes money from advertising. We have a modified experience for viewers using ad blockers

Wikia is not accessible if you've made further modifications. Remove the custom ad blocker rule(s) and the page will load as expected.