Background
Eadh the conjurer and Lola his assistant became famous thanks to their much celebrated guillotine act. But when Lola (who was also his mistress) found Eadh in the arms of another woman just before a show and refused to come on stage, the very stubborn (and rather drunk) Eadh decided to do the act on his own, which wasn't a great idea…
Involvement
Strategy
Quotes
Trivia
His name is an anargram of the word "head".
He is based off of the Headless Specter, a villain in Scooby Doo Cartoons.
Card Artwork
Full Artwork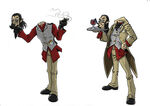 External links
Ad blocker interference detected!
Wikia is a free-to-use site that makes money from advertising. We have a modified experience for viewers using ad blockers

Wikia is not accessible if you've made further modifications. Remove the custom ad blocker rule(s) and the page will load as expected.