Background
When the meteorite fell on the zoo, all the humans abandoned their posts and for a while, it has to be said, chaos reigned. Fortunately, Eggman the walrus was there to take over the role of zookeeper. Bit by bit, he's established himself as the Law West of the Clint River, although he still dreams of becoming a Sentinel, just like his idol, Copper.
Advantages & Disadvantages
Advantages:
Disadvantages:
Trivia
Eggman's name is a reference to the song, "I Am the Walrus" by the Beatles.
His name might also be a reference to Dr. Eggman from the Sonic the Hedgehog series.
Card Artwork
LV 4.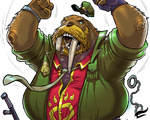 Full Artwork
LV 4.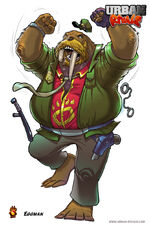 Ad blocker interference detected!
Wikia is a free-to-use site that makes money from advertising. We have a modified experience for viewers using ad blockers

Wikia is not accessible if you've made further modifications. Remove the custom ad blocker rule(s) and the page will load as expected.