Background
The city's most reliable and speediest chauffeur. When Edd needs a special order delivered, the sort he'd rather Copper didn't intercept, Enzo is the only person he can trust. Enzo, on the other hand, trusts no one and particularly not Edd, but that's another story…
Webcomic
Enzo has made a few apperances in the webcomic starting with his arrest by the Uppers' police robots, then getting a necklace that Aldo carelessly lost in "Montana Day Out" and is part of a love triangle between him, Jessie and Eyrton.
Missions
Eraser IV: Do 20 poison damage with Enzo.
Trivia
Enzo's name comes from the Italian race car driver and manufacturer of the Ferrari, Enzo Ferrari.
According to Sarah's profile, he is her ancestor.
Card Artwork
LV 2.
LV 3.
LV 4.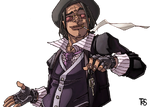 LV 5.
Full Artwork
LV 5.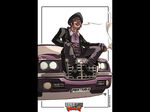 Ad blocker interference detected!
Wikia is a free-to-use site that makes money from advertising. We have a modified experience for viewers using ad blockers

Wikia is not accessible if you've made further modifications. Remove the custom ad blocker rule(s) and the page will load as expected.