Background
Erika is in charge of Dr. Gheist's personal guard. Her mission involves not only ensuring that nothing untoward happens to the doctor, but also detecting traitors that have infiltrated the GHEIST and making them disappear, which is by far the part of the job she likes best.
Web comic
Erika has only made a brief cameo in her third level form during the "Assault under Clint River" storyline when she helped her clan rescue Sigmund. Anything personality-wise has yet to be revealed.
Missions
None at the moment.
Trivia
Advantages and Disadvantages of the card
Advantages:
Disadvantages:
Tactics
Card Artwork
LV 4.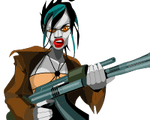 Full Artwork
Useful links
Ad blocker interference detected!
Wikia is a free-to-use site that makes money from advertising. We have a modified experience for viewers using ad blockers

Wikia is not accessible if you've made further modifications. Remove the custom ad blocker rule(s) and the page will load as expected.