Background
Normally Essie is a shy and self-effacing young lady, but no sooner does she have a sword in hand, then she's transformed into a fearsome fighter. And since the age of 14, she lives and dies by the sword… So, the All-Stars' enemies have been warned - if they don't want to end up with their clothes in tatters, they'd better behave.
Missions
None at the moment.
Advantages and Disadvantages
Advantages:
Her base power is 7, which is good for a 5*.
Her base damage is 5, but becomes 7 with fury, allowing you to 2HKO with other members of All-Stars.
Her ability increases her power by 3, making her a potential 10/5.
Her ability helps tremendously against power reduction.
She obtains her ability at level four, so she is usable then.
SoA doesn't really bother her, since her base power is still high.
The clan bonus removes two power from her opponent, which helps in low-pill fights.
Disadvantages:
Her base damage is 5, which isn't that good for a 5*.
Her ability is Revenge-based, meaning you must take damage before it can activate. It also makes her predictable.
She is weak against damage reduction.
She is a 5*, so she takes up a lot of room in your deck.
She has competition from the other 5* in All-Stars.
Trivia
Essie's name is a take off on fellow All-Star, Jessie's.
Card Artwork
LV 5.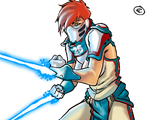 Full Artwork
Ad blocker interference detected!
Wikia is a free-to-use site that makes money from advertising. We have a modified experience for viewers using ad blockers

Wikia is not accessible if you've made further modifications. Remove the custom ad blocker rule(s) and the page will load as expected.