Background
Number One star of the Clint City Jet Set, Estalt is a playboy with a steamy reputation. His enemies, who are jealous of his success with the ladies, maintain that his overwhelming sex appeal and legendary in-bed performances cannot be all natural...
Involvement
Strategy
Webcomic
Estalt has made a few cameo appearances with some brief speaking parts through out the series. He's mostly portrayed as a lackey than having any real force in the clan. He later played a main role in "Through the Cauldron" when he assisted Lilith in the Mirror World.
Trivia
Card Artwork
LV 5.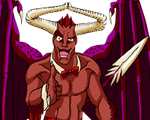 Full Artwork
Ad blocker interference detected!
Wikia is a free-to-use site that makes money from advertising. We have a modified experience for viewers using ad blockers

Wikia is not accessible if you've made further modifications. Remove the custom ad blocker rule(s) and the page will load as expected.