Background
Fifty years ago after he disrespected the Don's brother-in-law's cousin, the Montana decided to teach Fabio some manners by locking him up in one of the freezers of their beef Burger factories. They'd completely forgotten he was there until a power cut finally freed him from the ice and now it's as if he's never been gone.
Advantages & Disadvantages
Advantages:
Disadvantages:
Trivia
A miniature picture of his final level form can be seen on Irene's computer screen in her final level form.
Card Artwork
LV 5.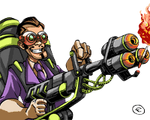 Full Artwork
Ad blocker interference detected!
Wikia is a free-to-use site that makes money from advertising. We have a modified experience for viewers using ad blockers

Wikia is not accessible if you've made further modifications. Remove the custom ad blocker rule(s) and the page will load as expected.