Background
Descended from a long line of acupuncturists, Fei knows all there is to know about his art. He knows how to use his needles both to relieve suffering and to inflict dire pain on his enemies. He can also use his needles to improve fighting performance as well as in other areas in which endurance is a real bonus...
Web comic
This card hasn't appeared in a web comic yet.
Missions
None at the moment.
Advantages and Disadvantages of the card
Advantages:
Disadvantages:
Tactics
Card Artwork
LV 4.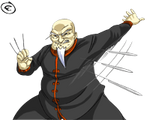 Full Artwork
Trivia
Useful links
Ad blocker interference detected!
Wikia is a free-to-use site that makes money from advertising. We have a modified experience for viewers using ad blockers

Wikia is not accessible if you've made further modifications. Remove the custom ad blocker rule(s) and the page will load as expected.