Background
If you've got a secret, Ficcanaso will get to the bottom of it and report back to the Don, who will then make a note of it in the little black book he keeps stashed away in the safe behind his desk. To uncover the sordid details of the lives of Clint City's inhabitants, Ficcanaso doesn't think twice about digging around in bins or hiding out for days in the most unlikely places.
Missions
Advantages & Disadvantages
Advantages:
Disadvantages:
Trivia
In Italian, the word "Ficcanaso" means a very nosy person.
Card Artwork
Full Artwork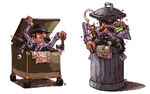 Ad blocker interference detected!
Wikia is a free-to-use site that makes money from advertising. We have a modified experience for viewers using ad blockers

Wikia is not accessible if you've made further modifications. Remove the custom ad blocker rule(s) and the page will load as expected.