<format> Junkz</format>
       </data>
       <data source="ability">
           <label> Ability</label>
           <default>Unknown</default>
       </data>
       <data source="bonus">
           <label> Bonus</label>
           <default>Attack +8</default>
       </data>
       <data source="rarity">
           <label>Rarity</label>
           <default>Unknown</default>
           <format>Common</format>
       </data>
       <data source="gender">
           <label>Gender</label>
           <default>Unknown</default>
           <format> Male</format>
       </data>
   </group>
   <group>
       <header>3 Stars (

★★★

)</header>
       <data source="level1">
           <label>Stats Lv 1</label>
           <format> 4  1 </format>
       </data>
       <data source="level2">
           <label>Stats Lv 2</label>
           <format> 4  2 </format>
       </data>
       <data source="level3">
           <label>Stats Lv 3</label>
           <format> 6  3 </format>
       </data>
       <data source="level4">
           <label>Stats Lv 4</label>
           <format>    </format>
       </data>
       <data source="level5">
           <label>Stats Lv 5</label>
           <format>    </format>
       </data>
   </group>
   <group>
       <header>Meta Info</header>
       <data source="released">
           <label>Released</label>
           <default>Unknown</default>
       </data>
       <data source="retired">
           <label>Retired</label>
       </data>
       <data source="artist">
           <label>Artist</label>
           <default>Unknown</default>
       </data>
   </group>

</infobox>
Background
Flyer is the number one party maker in Clint City. With his Junkz buddies he used to organize the wildest and most extreme raves and parties the City has ever known. He only needs three phone calls to turn the dullest evening into an outstanding musical event and many say that DJ Korr would never have been what he is now without Flyer's help. Even though he's not the most dangerous of the Junkz, Flyer is always there to finish off those already lying on the floor.
Webcomic
Flyer is the mediator between Coby and Dayton and DJ Korr Cr. He also is the one who orders the Junkz members to help Coby and Dayton defeat the Uppers.
Quotes
"Alright, your friend Flyer bears the words of the hardest working DJ ever." -From The Pillz Hunt
Trivia
The helmet that he wears in his final form is the same that Guy-Manuel de Homem-Christo of Daft Punk wears.
His first level outfit is similar to Sacha Baron Cohen's alter ego, Ali G.
Card Artwork
LV 1.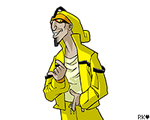 Full Artwork