Background
Very proud of her Miss Bikini title, Gabrielle is ready to move up to the next level. Her goal is to become Miss Ulu Watu, but to do that she'll have to convince Tanaereva and that's no easy task. In order to win over the environmentally-conscious surfer, she's now fighting every pollution maker crossing her path...
Missions
Miss Bikini: Win 25 rounds with Gabrielle
Advantages & Disadvantages
Advantages:
Disadvantages:
Trivia
Card Artwork
Full Artwork
LV 1.
LV 2.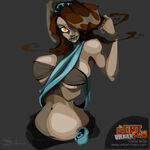 External links
Ad blocker interference detected!
Wikia is a free-to-use site that makes money from advertising. We have a modified experience for viewers using ad blockers

Wikia is not accessible if you've made further modifications. Remove the custom ad blocker rule(s) and the page will load as expected.