Background
Whenever Gary, the Fetish robber, arrives in a bank, all the women know what he wants: their stockings! And you better not mess with him, especially on weekends and Marathon days. But since the Montana offered to give him Lyse Teria's legendary, stinky nylon stockings in return for his services, Gary's started to sing a new tune...
Involvement
Strategy
Quotes
Trivia
If you look at his final evolution pic, you'll see that he finally got the stockings he was promised.
Card Artwork
LV 5.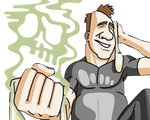 Full Artwork
External links
Ad blocker interference detected!
Wikia is a free-to-use site that makes money from advertising. We have a modified experience for viewers using ad blockers

Wikia is not accessible if you've made further modifications. Remove the custom ad blocker rule(s) and the page will load as expected.