Background
A child of the slums, the General was sent to the slammer for having stolen 4 heads of genetically modified corn to feed his starving family. His mastery of capoeira keeps him alive for 5 years in his hell-hole of a prison. Determined to overthrow the Government and its corrupt administration, he escapes and goes on a vendetta. The rebel Junta is born.
Mission
General's Heir: Win 1,000 fights with at least 2 La Junta.
Advantages & Disadvantages
Advantages:
Disadvantages:
Trivia
General Cr's appearance is based off various Cuban Revolutionists: (2nd and 3rd levels) Che Guevara, (4th level) Fidel Castro, and (5th level) Raul Castro.
His final form could also be based off Stalin.
His background is somewhat similar to Eddy Gordo's from the video game series, Tekken.
Card Artwork
LV 5.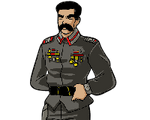 Full Artwork
External links
Ad blocker interference detected!
Wikia is a free-to-use site that makes money from advertising. We have a modified experience for viewers using ad blockers

Wikia is not accessible if you've made further modifications. Remove the custom ad blocker rule(s) and the page will load as expected.