Background
Like many athletes from Poldavie Golgochine, Gertrud has been banned from competition events. However, the mutations caused by her training in the reservoirs of an old nuclear power station have made her an exceptional swimmer. With her sporting career on the rocks, she was all set on drowning her sorrows in alcohol but the La Junta fished her out just in time.
Advantages & Disadvantages
Advantages:
Disadvantages:
Trivia
She may be a reference to American swimmer Gertrude Ederle, who was the first woman to swim across the English Channel.
Card Artwork
LV 4.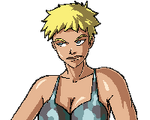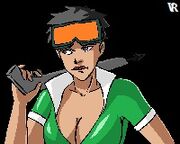 Full Artwork
Ad blocker interference detected!
Wikia is a free-to-use site that makes money from advertising. We have a modified experience for viewers using ad blockers

Wikia is not accessible if you've made further modifications. Remove the custom ad blocker rule(s) and the page will load as expected.