Background
Having devoured anything and anyone who ventured into the swamps, Ghumbo ended up very low on provisions. In order to find new prey and vary his diet a little, he headed for Clint City and ensconced himself with the Nightmare clan, who didn't have much choice in the matter.
Missions
Nightmare Come True: Win 20 fights by finishing with a knock-out from Ghumbo (20/11/2010 - 19/12/2010)
Advantages & Disadvantages
Advantages:
His base power is 7, which is good for a 5*.
His base damage is also 7, which is good.
His ability removes 10 attack from your opponent, which means your opponent must use a lot of pills to overcome that.
The clan bonus cancels an opposing card's bonus, which makes fights with him a lot easier.
Disadvantages:
Because of his ability and stats, he is almost always ELO-banned.
The minimum for his ability is 7, which is the same as his base power, meaning you may have to use a pill or more to make sure you win with him.
He is a 5*, so he takes up a lot of room in your deck.
He has competition from the other 5* in Nightmare.
Strategy
Trivia
His name is a play on the word 'gumbo', which is a soup that is often eaten in the Southern states of America.
In the south, there is also a vast region of swamps (like the Bog Swamp Demon), which refers to Ghumbo's origins.
Concept scetches
Card Artwork
LV 5.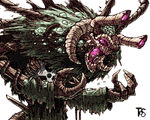 Full Artwork
LV 5.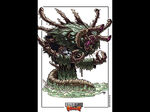 External links
Ad blocker interference detected!
Wikia is a free-to-use site that makes money from advertising. We have a modified experience for viewers using ad blockers

Wikia is not accessible if you've made further modifications. Remove the custom ad blocker rule(s) and the page will load as expected.