Background
Giovanni hasn't always been corrupt. In fact, he had a very innocent childhood and even dreamed of one day becoming a cop. But his life changed forever when Selena, his one and only love, stood him up at the altar. Lovesick and ashamed, Giovanni was deeply depressed when he met Aldo and the guys from the Montana Clan. Since then, he's become the cruelest and most frightening of Don's crew.
Webcomic
Giovanni appears in the comic, Lucha Libre in Clint City, where he and two of his clanmates (Angelo and Orenichi) are about to mug an old lady. That is, until a luchador (El Matador) comes in and beats them up. In the second half, he and his two defeated clanmates come back to an abandoned place to get revenge on El Matador, only to find out that he and his clan have been waiting for them (and some others) this whole time.
Card Artwork
LV 1.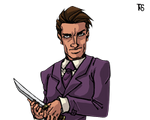 LV 2.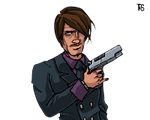 LV 3.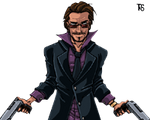 Full Artwork
LV 1.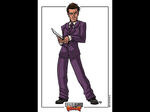 Ad blocker interference detected!
Wikia is a free-to-use site that makes money from advertising. We have a modified experience for viewers using ad blockers

Wikia is not accessible if you've made further modifications. Remove the custom ad blocker rule(s) and the page will load as expected.