Background
Perched peacefully atop of the main sail, Gran Vista knows he's got one of the best jobs on the ship, sheltered as he is from the captain's rages and Spycee's cooking smells. He can even nod off from time to time, without anyone noticing.
Involvement
Strategy
Missions
The Man on the Top of the Mast: Win 50 rounds with Gran Vista (11/4/2014 to 15/6/2014)
Quotes
Trivia
Card Artwork
Full Artwork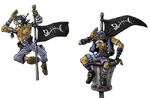 External links
Ad blocker interference detected!
Wikia is a free-to-use site that makes money from advertising. We have a modified experience for viewers using ad blockers

Wikia is not accessible if you've made further modifications. Remove the custom ad blocker rule(s) and the page will load as expected.