Background
Exploration into the great unknown is a dangerous subject and for that reason has never been on the curriculum for first year students. But ever since Greem took over from the last teacher (who was turned into a zombie after a spell went wrong), the number of accidents has gone right down and more and more parents allow their kids to sign up for the course.
Missions
Fatal Lesson: Win 100 rounds with Greem
Advantages and Disadvantages
Advantages:
Her base power is 7, which is good for a 4*.
Her base damage is 4, but becomes 6 when fury is activated, allowing you to 2HKO with other members of Skeelz.
Her ability takes away three life from your opponent, after you've won with her.
The minimum for her poison ability is 2, which is very low.
She is good against damage reducers because of her Poison ability.
Her bonus ensures her ability stays activated, unless she is facing an all stop.
Disadvantages:
Though her damage is good, it is wasted because of her ability.
She has competition from the other 4* in Skeelz.
She is a 4*, so she takes up room in your deck.
To get the best of her ability, she must be used in the first few rounds.
Strategy
It is recommended that if you are playing with Greem in your hand that you match her up with a damage reducer, as her Poison ability will make up for her damage.
On the last round, Sasha or Sandro can easily deal the last two damage.
Trivia
Her name is a play on the Grim Reaper, in which she turns into in her last two forms.
Up until Navi was released, she was the sole female professor of the clan.
Card Artwork
LV 4.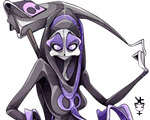 Full Artwork
External links