Background
Extremely disappointed that the Jungo didn't make him their Leader (although they of all people should know the lion is the king of the jungle...), Greow is plunged into despair before finally finding his calling: the Rock. What could be better to vent his anger and frustration than to hurl a rock with all his might and main while cheered on by his frenzied fans.
Card Artwork
LV 1.
LV 4.
Full Artwork
LV 4.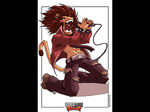 Trivia
Greow is based off of James Hetfield of Metallica, who, in his early days, played as the Cowardly Lion on the Wizard of Oz.
Ad blocker interference detected!
Wikia is a free-to-use site that makes money from advertising. We have a modified experience for viewers using ad blockers

Wikia is not accessible if you've made further modifications. Remove the custom ad blocker rule(s) and the page will load as expected.