Background
A real weapon of mass destruction, Griezzo has but one fault: he's completely uncontrollable. So to stop him from escaping from his cell in the basement of Borgia's Palace, he has to be permanently chained up. Ever prudent, the Montana only release him when they're REALLY in need of his powers of persuasion.
Missions
Release the Beast: Win 70 fights finishing KO by Griezzo
Advantages & Disadvantages
Advantages:
Disadvantages:
Trivia
He possibly could be based off of Juggernaut from X-Men.
His name is based off the Italian word "grezzo", which means "rough".
Card Artwork
LV 1.
LV 2.
LV 3.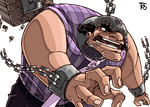 LV 4.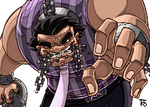 Full Artwork
LV 4.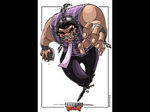 Ad blocker interference detected!
Wikia is a free-to-use site that makes money from advertising. We have a modified experience for viewers using ad blockers

Wikia is not accessible if you've made further modifications. Remove the custom ad blocker rule(s) and the page will load as expected.