Background
Ladies and Gentlemen, come and see the incredible Grudj, the human stomach who can not only devour his own bodyweight in hot-dogs but can also swallow and digest objects you'd have never have thought possible, like paper and metal. But be sure not to let your children get too close to his cage. Who knows what might happen???
Web comic
This card hasn't appeared in a web comic yet.
Missions
Risk Taker: Win 20 fights by finishing with a knock-out from Grudj.
(Note: Grudj doesn't have to necessarily be the character to cause the KO, he just has to have won a match prior to the KO in the battle)
Advantages and Disadvantages of the card
Advantages:
His base power is 8, which is good for a 4* card.
His ability gives you two extra pillz if he wins.
His ability makes him a good bluff against your opponent.
The clan bonus takes away two life from your opponent each round, after you've won with him.
Disadvantages:
His base damage is 4, which is low for a 4*.
He is weak against SoB, since he loses his clan bonus and must rely on his base damage.
His main weakness are cards, such as: Clara, Lucy, Artus  & Ulrich, who not only reduce his damage, but also cancel his bonus.
He is a 4*, so he takes up room in your deck.
He has competition from the other 4* in Freaks.
Tactics
Grudj is best used as an opener, as he has 8 Power and his ability gives you 2 Pillz if he wins, so it is safe to put up to 6 pillz on him, as he will have up to 56 attack, making cards with lower Power, use 7 or more pillz just to beat him.
Trivia
He is based off of Michel Lotito, a French entertainer who was famous for eating indigestible objects, such as: metal, glass, rubber, and even (in the span of two years) a real airplane.
Card Artwork
LV 4.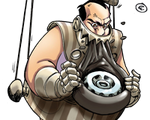 Full Artwork
Useful links
Ad blocker interference detected!
Wikia is a free-to-use site that makes money from advertising. We have a modified experience for viewers using ad blockers

Wikia is not accessible if you've made further modifications. Remove the custom ad blocker rule(s) and the page will load as expected.