Background
When Gus turned up at the Red One Motel on that fatal night, he had no idea someone was lurking in the shadows for him, all set to steal his equipment and pass themselves off as him so they could release a poisonous gas throughout the hotel. When he finally came round, he found himself immersed in thick, red smoke and was one of the first people to be transformed. One day he'll track down whoever it was who took advantage of him and he knows exactly what he'll do with them when he finds them...
Web comic
This card hasn't appeared in a web comic yet.
Missions
None at the moment.
Advantages and Disadvantages
Advantages:
His damage is 5, but becomes 7 when fury is activated, allowing you to 2HKO with some of the other members of Berzerk.
His ability increases by three, which makes him a potential 9/5.
He makes a good bluff against your opponent, since they don't know whether you are planning to attack with him or not.
The clan bonus removes two life points from your opponent after you've won with him, meaning you could remove up to seven life points. The damage increases to nine, if you fury with him.
Disadvantages:
His base power is 6, which is low for a 4*.
His base damage is 5, which is also low, though his bonus makes up for it.
His ability is Courage-based, meaning you only get two chances to activate it. It also makes him predictable.
His main weakness is SoA, since it removes his ability and forces him to contend with his base power of 6.
He is a 4*, so he takes up room in your deck.
He has competition from the other 4* in Berzerk.
Tactics
Trivia
Replace the "u" in Gus' name with an "a" and you get the word gas, which is what he uses.
In the John Sein art files he is known as 'Ratman.'
Card Artwork
LV 4.
Full Artwork
LV 4.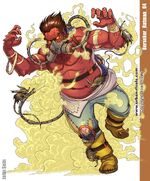 Useful links
Ad blocker interference detected!
Wikia is a free-to-use site that makes money from advertising. We have a modified experience for viewers using ad blockers

Wikia is not accessible if you've made further modifications. Remove the custom ad blocker rule(s) and the page will load as expected.