<format> Fang Pi Clang</format>
       </data>
       <data source="ability">
           <label> Ability</label>
           <default>Unknown</default>
       </data>
       <data source="bonus">
           <label> Bonus</label>
           <default>Damage +2</default>
       </data>
       <data source="rarity">
           <label>Rarity</label>
           <default>Unknown</default>
           <format>Rare</format>
       </data>
       <data source="gender">
           <label>Gender</label>
           <default>Unknown</default>
           <format> Male</format>
       </data>
   </group>
   <group>
       <header>5 Stars (

★★★★★

)</header>
       <data source="level1">
           <label>Stats Lv 1</label>
           <format>    </format>
       </data>
       <data source="level2">
           <label>Stats Lv 2</label>
           <format>    </format>
       </data>
       <data source="level3">
           <label>Stats Lv 3</label>
           <format> 5  5 </format>
       </data>
       <data source="level4">
           <label>Stats Lv 4</label>
           <format> 6  5 </format>
       </data>
       <data source="level5">
           <label>Stats Lv 5</label>
           <format> 8  5 (Gains Ability)</format>
       </data>
   </group>
   <group>
       <header>Meta Info</header>
       <data source="released">
           <label>Released</label>
           <default>Unknown</default>
       </data>
       <data source="retired">
           <label>Retired</label>
       </data>
       <data source="artist">
           <label>Artist</label>
           <default>Unknown</default>
       </data>
   </group>

</infobox>
Background
In order to become a true Samurai, Hattori has joined the Golden Mountain Monastery to study the teachings of Lost Hog and Kinjo. Brave and disciplined, he's also incredibly greedy and certainly can't fight on an empty stomach.
Web comic
This card hasn't appeared in a web comic yet.
Missions
None at the moment.
Advantages and Disadvantages of the card
Advantages:
His base power is 8, which is very good for a 5*.
His ability removes four damage from your opponent, which is a lot.
The minimum for his ability is two, which is very low.
He makes an excellent bluff, since your opponent doesn't know whether you will be defending with him or attacking with him.
The clan bonus gives him an extra two damage, which makes him a potential 8/7.
If you fury with him, his damage increases to 9, allowing you to 2HKO with some of the other members of Fang Pi Clang.
You can use him at level 4, since his ability is activated then.
Disadvantages:
His ability is Courage, meaning you only get two chances to activate it.
He has competition from the other 5* in Fang Pi Clang.
He is a 5*, so he takes up room in your deck.
Tactics
Trivia
Card Artwork
Full Artwork
From left to right: Level 3, Level 4 and Level 5.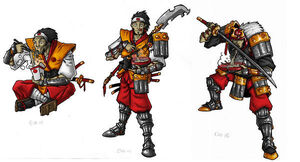 Useful links