Background
To start off with, Haze was a simple antivirus developed by Nobrocybix to protect the Junkz' machines from Z3r0 D34d's attacks. But with time and as a result of the odd update here and there, Haze has become a hybrid creature - a sentry capable of materializing both in cyberspace and the real world.
Advantages & Disadvantages
Advantages:
She has a great damage of 7.
Her ability reduces the opponent's power by 3, with a min of 5.
The min for her ability is lower than her own base power, which is good.
Her bonus adds 8 attack to her, which helps to make up for her low base power.
Disadvantages:
A 6 power is quite low for a 5 star.
Because she is a 5 star she also takes up a lot of room in your deck.
SOA and SOB make her weaker.
Trivia
Her name comes from a drug that causes you to have hallucinations, which seems to fit her, since she was just a simple anti-virus that soon transformed into a hybrid creature of the computer world and the real world. It would also make sense, since she is part of the Junkz, who's main philosophy is 'wild parties, sex, and drugs'.
Card Artwork
LV 5.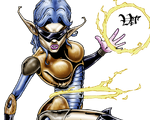 Full Artwork
External links
Ad blocker interference detected!
Wikia is a free-to-use site that makes money from advertising. We have a modified experience for viewers using ad blockers

Wikia is not accessible if you've made further modifications. Remove the custom ad blocker rule(s) and the page will load as expected.